Message
President's Message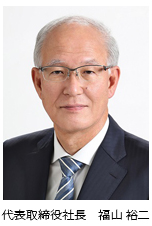 Yuji Fukuyama President and CEO
In 1914, Honshu Chemical Industry Co., Ltd. was founded in Wakayama City, Wakayama Prefecture (the same site now our Wakayama plant exists). The Company constructed Japan's first benzene-distillation plant and succeeded in industrialization of benzene's derivative, aniline. Since then we, with the pioneer sprit, have been creating and presenting various kinds of unique fine chemical products in the market.
Honshu Chemical's basic management policy is to act as Fine Chemical Specialist for developing and utilizing its original technologies thus creating valuable products, and thereby realizing sustainable growth in collaboration with our clients. It is also our goal to make ourselves a real reliable company and to gain respects from our stakeholders and the regional society.
In order to catch up and respond to growing and diversifying market needs, the Company will continue to develop and supply unique fine chemical products of high quality for the niche markets within IT, automobile and medical industries.
Honshu Chemical Industry Co., Ltd.
Yuji Fukuyama, President and CEO